Patron: Professor Kirsty Gunn

Annual membership starts from date of joining and includes the following benefits:
Free copy of Katherine Mansfield Studies, the Society's prestigious annual yearbook published by Edinburgh University Press, including free on-line access to vols 1-4 (worth £25).
Three on-line newsletters per year, packed with information, news, reviews and much more.
Regular email bulletins with the latest news on anything related to KM and/or the Society (over 100 sent in 2016)
Reduced price fees for all KMS conferences.
20% discount on all books published by Edinburgh University Press
Special member offers.
In addition, your membership fee goes to support the work of the KMS, a charitable organisation, which aims to promote worldwide awareness of Katherine Mansfield and her work. If you enjoy browsing through our website, the result of hundreds of hours of work by volunteers, please show your support by becoming a member.
Latest News
31 January 2013
The Katherine Mansfield Society is delighted to announce details of its annual Birthday Lecture for 2013:
28 January 2013
On Sunday 3rd February authors Kirsty Gunn and Gabriel Josipovici, join Delia da Sousa Correa from The Open University in the first of a series of OU events taking place at London's Southbank Centre as part of the The Rest is Noise Festival.
9 January 2013
who died from a hemorrhage at eleven o'clock on the night of 9 January 1923, 90 years ago today. This year, 2013, also celebrates the 125th anniversary of her birth.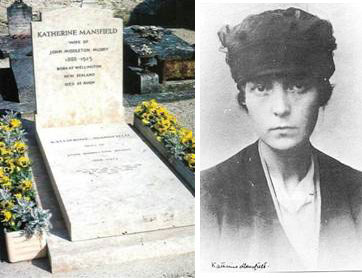 (Image by Jan Riemenschneider-Kemp)

More images from Fontainebleau are available in the resource section of our website:
http://www.katherinemansfieldsociety.org/fontainebleau-avon/
6 January 2013
The Katherine Mansfield Society is pleased to announce the winner of its fourth international essay competition, on the theme of 'Katherine Mansfield and the (Post)colonial'. The judges, Professor Elleke Boehmer (Professor of World Literature, University of Oxford), Dr Simone Oettli (Chargée d'enseignement, University of Geneva) and Professor Janet Wilson (Vice Chair, KMS, Professor of English and Postcolonial Studies, University of Northampton), agreed on the winner unanimously from a wide field of excellent entries.
6 January 2013
Find further details here
Katherine Mansfield: Masked and Unmasked
February 8-11, 2013
Victoria University of Wellington, New Zealand